MA Dental's All-Round Surgery Kit

Your Comprehensive Solution for Surgical Procedures

As a dental professional, performing successful surgical procedures requires not only skill and knowledge but also the right tools. That's why MA Dental has developed an all-round surgery kit that covers all your surgical needs. 

The surgery kit comes with a sterilization tray and contains a wide range of high-quality instruments that are designed to make your surgery easier and more efficient. Here's a closer look at what the kit includes:

I. Instruments in MA Dental's All-Round Surgery Kit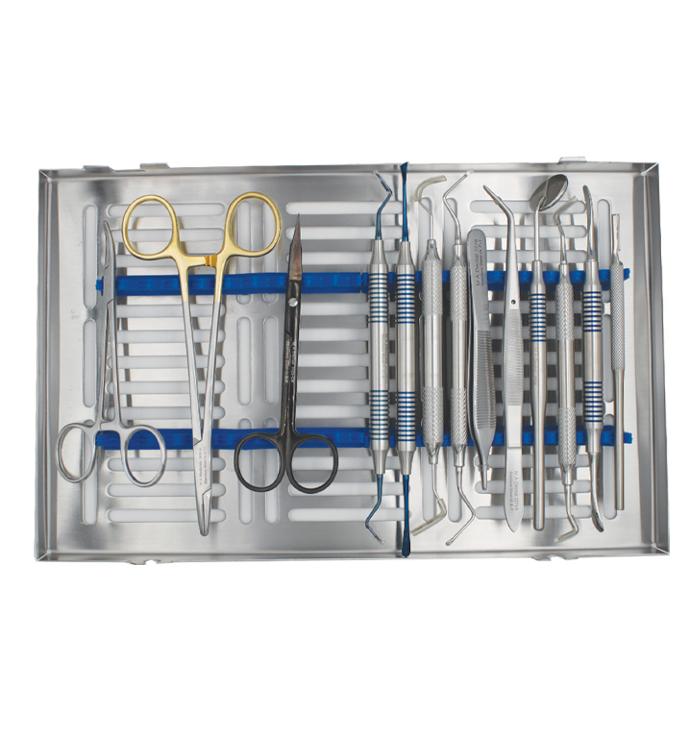 The surgery kit contains the following instruments:

College tweezer, 15cm 
Adson surgery tweezer (1x2), 12cm 
Sterilization cassette for 20 instruments with removable top 
Gold-man fox black scissor curved 13cm - TC 
Root tip elevators 1.8mm, titanium-coated instrument 
Langenbeck retractor, medium size 42x10mm (21cm) 
Filling remover (8mm handle) 
Molt 5mm/8mm, periosteal elevator 
Universal curette M23, titanium-coated instrument 
Crile wood needle holder, 15cm - TC 
Classic pean, curved, 13cm 
Scalpel handle 
Probe CP-12, 3-6-9-12mm / Explorer 23 (Hollow handle Ø10mm) 
Mirror handle, titanium-coated, hollow-8mm 
Rhodium/Front Surface Mirror Ø22mm – no. 4 
Lucas 85

II. Quality and Design of MA Dental's Instruments

MA Dental's instruments are made from high-quality stainless steel, ensuring their durability and long-lasting performance. The titanium coating on some of the instruments also provides added protection against wear and tear. 

The ergonomic design of our instruments ensures that they're comfortable to use for extended periods of time, reducing hand fatigue and improving your overall surgical experience. The instruments are also lightweight and easy to handle, giving you greater control and precision during surgical procedures.

III. Regulatory Compliance and Safety

At MA Dental, we take pride in our commitment to quality and safety. Our all-round surgery kit is MDR-compliant and manufactured in an ISO-13485 certified facility. We're also registered as an importer and distributor with the Danish Health Authorities, ensuring that our products meet the highest regulatory standards.

IV. Suitable for a Wide Range of Procedures

Our all-round surgery kit is designed for use in implantology, periodontics, and endodontics, making it a versatile tool for a wide range of procedures. The kit is suitable for both surgical and non-surgical procedures, providing dental professionals with a comprehensive solution for all their surgical needs.

MA Dental's all-round surgery kit is an essential tool for any dental professional looking to perform successful surgical procedures. With its comprehensive range of instruments, high-quality materials, and ergonomic design, it's no wonder that dental professionals around the world rely on MA Dental for their surgical needs.

Take a look at MA Dental's collection of surgical kits.